SLT thanks Scott River Ranch for their tremendous effort and incredible generosity in hosting The Whole Cow on June 24…a wonderful event offered as a fundraiser in support of the work of the Siskiyou Land Trust.  Click to read more….

Your gift to Siskiyou Land Trust will help preserve open spaces in Siskiyou County, support community projects and connect people to nature. Click here to become a monthly supporting member or to make an annual donation. Thank you for your support!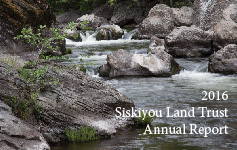 Click here to view our 2016 Annual Report!
Your donation to Siskiyou Land Trust will support this work:
The continued care and enhancement of Sisson Meadow in Mt. Shasta, where hundreds of people walk through each week to enjoy nature and the incredible the views.
Work with landowners to protect and conserve large open spaces on ranchlands and forests.
Support more field trips and workshops that get people outside and connected to nature.
Support SLT's ability to participate in community partnerships that create resources like the City Park to Downtown Trail with partners like Mt. Shasta Trail Association and Mt. Shasta Recreation and Park District.
Enhance the Garden Greenway in Mt. Shasta for outdoor education and connection for people of all ages.
---
Community Projects

Garden Greenway connects people to landscape


This 2.89-acre project in Mt. Shasta connects Sisson Middle School, the Mt. Shasta Library, neighborhoods and the trail through Sisson Meadow to a landscape of gardens, open space, wetlands and wildlife habitat. Read more…

City Park to Downtown Trail underway


In partnership with the Mt. Shasta Greenway Consortium, the Land Trust is holding several easements to make the City Park to Downtown Trail possible. In fall 2015, the Mt. Shasta Trail Association started work on the trail. Read more…
---
Conservation Achievements

Spencer Ranch protects salmon habitat


The Spencer Ranch Conservation Easement will preserve over 1000 acres of working ranch land in the Scott Valley, including critical salmon habitat on the Scott River. Read more…

Rainbow Ridge anchors wildlife habitat


The Rainbow Ridge Wherrit Conservation Easement will protect 597 acres of forest and wildlife habitat just west of the City of Mt. Shasta. Read more…

Our Latest Stories
The Whole Cow event on June 24 was a […]
The Whole Cow "Day with the Chef: Carlo Lamagna"
Fabulous Springtime Rafting! Saturday, June 3, 2017 — All Day
Due to our unusually wet […]
Join wilderness artist Kim Solga for an outdoor sketching and painting experience in beautiful […]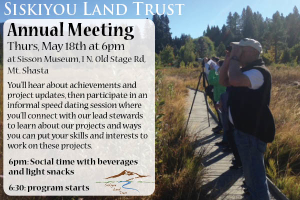 Siskiyou Land Trust (SLT) invites the […]