Welcome
Welcome to The Siskiyou Land Trust (SLT). We are a community based non-profit organization that strives to protect open space, ranch and farmlands, forest and wetlands, natural resources and wildlife habitat in beautiful Siskiyou County.
Rare Mount Shasta Serigraph Prints sold at SLT Auction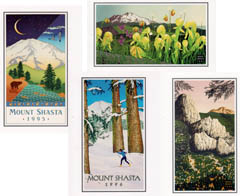 Get Involved
The Siskiyou Land Trust is a community effort! Help comes in all shapes and sizes, and SLT recognizes that every bit makes a big difference, from memberships to donations to volunteers. Learn How You Can Help!
Keep in touch on our News page and Events Calendar. Follow our Facebook page. Receive our printed members' Newsletter and sign up for free email alerts.  Check out our new Volunteer Here page to learn about the current opportunities to help at SLT.  MORE INFO…

The Latest News
Help SLT win $2500!  Vote for the Siskiyou Land Trust video at the Shasta Regional Community Foundation website.  Just click here, then type your name and email on the voting form…and select Siskiyou Land Trust from the list of six participants.  Every vote helps.  Thanks for taking a moment to support SLT.