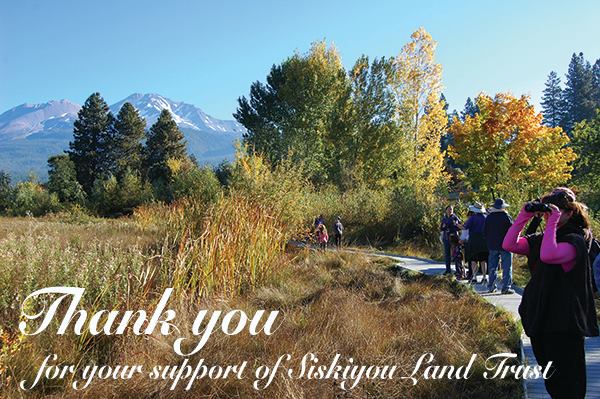 Thanks for the support during 2017!
It's been a terrific year for the Land Trust, our partners throughout Siskiyou County and for our Mt. Shasta community. We're proud of our achievements and looking forward to more impactful work in 2018. Our goal was to raise funds to support these priority projects:
Launching our Outdoor Education Program to work with schools and partner organizations to get students learning outside at Sisson Meadow and Garden Greenway

Advancing the Garden Greenway Outdoor Learning Landscape to include community gathering and hands-on learning spaces
Starting the second Rainbow Ridge conservation project to preserve forest lands, mountain views, wildlife habitat and clean water springs outside of Mt. Shasta City
Sisson Meadow enhancements to improve enjoyment of the views of Mt. Shasta and continued stewardship of this critical wetland
New open space and habitat conservation projects in Scott Valley
You can make a tax deductible supporting gift online at our secure donation page any time! Our goal before the end of the year was to surpass the $34,000 we raised together last year.

A big, heart-felt thank you to our sponsors. You know them, so when you see these folks around town, please thank them for their support of Siskiyou Land Trust.

---
Community Projects

Garden Greenway connects people to landscape


This 2.89-acre project in Mt. Shasta connects Sisson Middle School, the Mt. Shasta Library, neighborhoods and the trail through Sisson Meadow to a landscape of gardens, open space, wetlands and wildlife habitat. Read more…

City Park to Downtown Trail underway


In partnership with the Mt. Shasta Greenway Consortium, the Land Trust is holding several easements to make the City Park to Downtown Trail possible. In fall 2015, the Mt. Shasta Trail Association started work on the trail. Read more…
---
Conservation Achievements

Spencer Ranch protects salmon habitat


The Spencer Ranch Conservation Easement will preserve over 1000 acres of working ranch land in the Scott Valley, including critical salmon habitat on the Scott River. Read more…

Rainbow Ridge anchors wildlife habitat


The Rainbow Ridge Wherrit Conservation Easement will protect 597 acres of forest and wildlife habitat just west of the City of Mt. Shasta. Read more…
Our Latest Stories