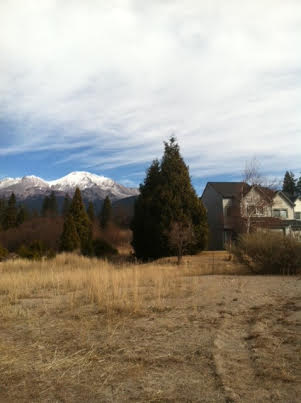 In November of 2014 the Land Trust acquired a key piece of land along the proposed Mount Shasta Greenway.
The 5-acre property, located at the end of Kingston Road, was a foreclosed parcel that a consortium of Greenway proponents purchased from Scott Valley Bank.  The land, which was once slated for condominium development, will now be retained as open space that will facilitate the Greenway.  The consortium of groups promoting the Greenway include the Mount Shasta Trail Association, Siskiyou Land Trust, Mount Shasta Rotary Club, Mountain Wheelers, Mountain Runners, and the Mount Shasta Recreation & Parks District.  The purchase was funded by contributions by the partners, while title for the land will initially be held by the Land Trust.
Conservation Values.  The long-term goal of the consortium is to establish a 5-mile greenway network through the city and extending to Lake Siskiyou that provides safe off-street multi-use trail linkages, incorporates streams, wetlands, and open-space, restores fish and wildlife habitat, mitigates urban storm-water runoff, and benefits the local economy.  
The first phase of the project is to connect the City Park to downtown.  Central to that objective is an 8 foot wide paved, multi-use trail crossing a variety of land ownerships, including the Kingston Road parcel.  Future extensions would connect the trail to Spring Hill, the proposed Mill Pond Park at the old Roseburg Mill site, and eventually to Lake Siskiyou that is already circumnavigated by a recreational trail.  The accessible trail will provide a recreational pathway for walkers, runners, bicyclists; nature study of meadows and wetlands; urban open space retention; and safe access to the City Park
Current Status.  The consortium continues to work on the preparation of a master plan for the entire project and then environmental compliance, before securing funding for designing and implementing the project in phases.