Sisson Meadow was purchased  in January of 2003 to protect a remarkable 7.5 acre wetland parcel near the center of Mt. Shasta City.   The meadow is accessible from Castle Street, and is adjacent to Sisson School and the Mount Shasta library.   The public enjoys the restored wetland meadow from boardwalk trails.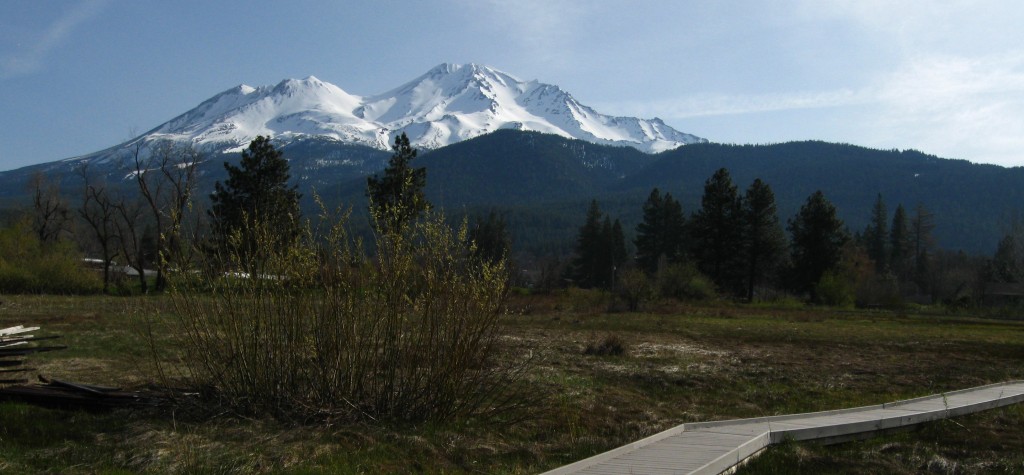 The official "unveiling" was held in spring of 2003, with a public event promoting the work of the SLT, encouraging volunteer efforts to implement the proposed improvements, educating the public about the importance of wetland conservation, and providing participants an opportunity to become a supporting members of the SLT.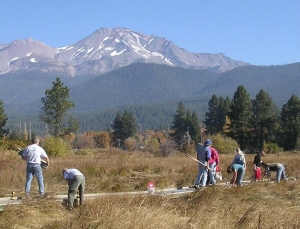 Sisson Meadow is maintained entirely through wonderful volunteer efforts.   These efforts are currently led by Sam Baxter and Rebeca Franco.  As lead stewards, Rebeca and Sam  identify and schedule annual upkeep for Sisson Meadow , organize clean-up days, organize maintenance projects, and oversee other volunteer activities that help take care of the meadow.  They are also working with several local teachers to create curriculum for Sisson Meadow.
The Siskiyou Land Trust holds a clean-up day for the meadow every spring and fall.  We clean the boardwalk, pull noxious plants from the meadow and keep the meadow a pristine home for all plants and wildlife.  We greatly appreciate our great volunteers who make sure Sisson Meadow .  Please contact Sam Baxter or Rebeca Franco, Sisson Meadow lead stewards, for meadow clean-up dates and volunteer opportunities to participate in keeping Siskiyou County beautiful.
530-926-2259 or email kathhitt@gmail.com