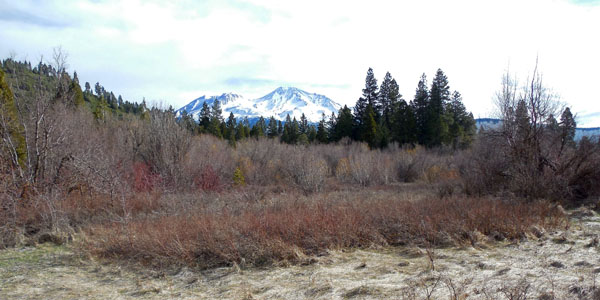 The Mt. Shasta Greenway is a proposed 8 foot wide paved multi-use urban trail going from the City Park to downtown Mt. Shasta City.  The trail would cross a variety of land ownerships.  Future extensions would connect the trail to Spring Hill and Lake Siskiyou.
This project is being promoted by a consortium of groups, including the Mt. Shasta Trail Association, Mt. Shasta Rotary, Mountain Wheelers, Mountain Runners, the Mt. Shasta Parks & Recreation District, and (of course!) the Siskiyou Land Trust.  The proposal has been endorsed by the City Council.
Conservation Values.  The trail would provide an all-weather outdoor recreation experience for walkers, runners, and bicyclists.  Along the trail would be opportunities for nature study, appreciation, and protection of meadows, wetlands, and forested ecosystems.  The trail would also help retain a corridor of urban open space, and safe access to City Park in which busy streets could be avoided.
Role of the Land Trust.  To facilitate trail development for public use and enjoyment, a combination of trail easements and land ownership may be required to ensure an uninterrupted trail.  The Land Trust is a willing partner that would hold these land tenure documents, as necessary.
Current Status.  The consortium is working through a variety of real estate and legal issues to clear the way for trail development.  If all goes as planned, we may see the establishment of a continuous right-of-way in 2014, whereby funds for trail construction would be sought soon thereafter.