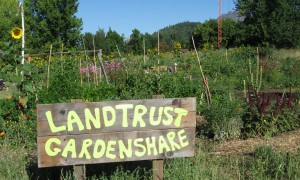 The Land Trust Garden Share Project started in 2010.  This demonstrates the ever important need for working landscapes.  The Siskiyou Land Trust Garden Share Project is a cooperative garden located at the land trust office on Alma Street in Mt. Shasta across the street from the library.  The landowner David Reese and about 20 local volunteers, whose goal is to grow organic food and share the harvest with each other as well as the local community, manage the garden.
What is a Garden Share? A garden share means that a landowner opens up a portion of the land to others for gardening.  A landowner may receive garden harvest in exchange for use of the land, or may simply receive the beauty of the garden and the sense of community that it brings.
The gardeners came up with a purpose and vision to the garden.
Purpose: To grow organic food in respect of the environment and present ecosystem.  To do this in cooperation with all members which is the cornerstone of community and sustainability.  Also to share individual tools and materials.  We want to share the harvest with each other and when possible with the greater community.  We also want to exemplify though our activities the value of consensus decision-making and the possibility of world peace and wellness.
Vision: The garden is a place for peace, beauty, harmony, and abundance.  A place to love and learn from each other about growing food and creating community sustainability.