The Siskiyou Land Trust offers three ways to help keep you informed about SLT activities and achievements. 
1. The free  E-mail News is sent a couple times each month to announce upcoming events. You can sign up below.
2. Our Printed Newsletter is mailed to SLT supporting members via the Post Office.
3. Become a friend on Facebook.  Our SLT Facebook page is updated frequently with news, upcoming events, and interesting links.  If you use Facebook, it's a great way to keep in touch with SLT.
---
Subscribe FREE for our Email News
---
Receive our Printed Newsletters by mail

Once or twice each year, we publish a printed newsletter that is mailed to all SLT members and supporters. You can receive a copy of this newsletter in the mail by becoming a member. Simply Click Here for our Secure Donation page and become a member at any level you desire. Your tax-deductible donation helps fund SLT activities and is a  valuable part of the community support needed for grants and other funding sources.
Printed Newsletters Online
You can also read past issues of the printed newsletter online at the links below.
Read the new 2015 SLT newsletter!

We're excited to share our new newsletter! Click here or on the cover image to access our newsletter online.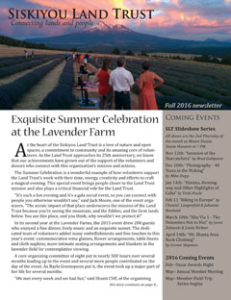 Spring 2013 Newsletter
Click to Download:  Spring 2013 Newsletter
Rainbow Ridge Update
Sisson Meadow seasonal journal by Sam Baxter
Garden Greenways Acquisition Project
Spring 2012 Newsletter
Click to Download:  Spring 2012 Newsletter
Students help at the Garden Share and Sisson Meadow
Sisson Meadow update
The Great Shasta Rail Trail Project
Keeping conservation relevant on Rainbow Ridge
Innovation in regional forest management
Report from the California Council of Land Trusts convention:  John Brennan
Fall 2011 Newsletter
Click to Download: Fall 2011 Newsletter
The Siskiyou Land Trust Speakers' Bureau
Conservation Easement workshop in Montague
Cycling through Turkey: SLT Slideshow Series story from Linda Roddy and Mike Hupp
Garden Share update
To swim or not to swim?  News from Hammond Pond
Changing Hats:  Janet Zalewski
Spring 2011 Newsletter
Click to Download: Spring 2011 Newsletter
Celebrating Success: the Plank/Whipple easements in Scott Valley
Why Volunteer?  Sam Baxter
Member Focus: Mike Sojka
What's in store for stewardship and acquisition
Backcountry ski report: Robin Kohn
Fall 2010 Newsletter
Click to Download:  Fall Newsletter 2010
Mt. Shasta Garden Share Project
Thoughts from the Pacific Crest Trail
Volunteers Make a World of Difference
Meet SLT Member Tom Stokley
California Land Trusts: Small is Beautiful
Where are They Now?  Jack Moore
Spring 2010 Newsletter
Letter from the President of the Board
New Digs for the Land Trust!
Land Trust Staff Focus on Action
Why your Membership Matters
Letter from the President
Meet Marc Williams
Conservation in the News!
Tuli Potts shares Thoughts on Conservation
Spring 2009 Newsletter
SLT and Partners to Build Spring Hill Trail
SLT Proposes First County Agricultural Easement
More Volunteers Needed for Sisson Meadow Spring Cleaning
Thanks to SLT Members
Letter from the President
December 2008 Newsletter
Click to download: e-newsletter.Dec 2008-1.pdf
Happy Holidays!
Holiday Hours
Upcoming Events
Volunteers Needed!
Thanks to our Business Supporters
Spring 2007 Newsletter
Click to download: SLTSpr07pub-1.pdf
Sisson Meadows Trails and Wetlands Completed
Legislative Boost for Land Conservation
SLT Proposes Environmental Education Center to Replace Old Barn at Sisson
SLT Hires New Staff
Letter from the President