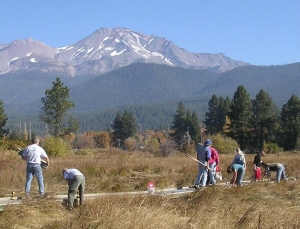 Community Volunteers are an important and integral part of the Siskiyou Land Trust successes over the years.  All Board of Directors and Committee Members are volunteer positions, and there are many other ways to participate with us to  "Find Your Place" in this fulfilling activity in our community.  We truly have a lot of fun together doing this satisfying work of insuring a balanced and conscientious approach to the use of our natural resources in Siskiyou County.
How would you like to participate?
Volunteering your time and talent to Land Trust projects such as fundraising, public education, administration, land management and ongoing maintenance needs is a fabulous way to take part in your community.
Current volunteer needs are listed below.  If you are interested in any of these, or want more information, please send an email to the contact person listed. Check back often as SLT staff and committees update this page with new and rewarding opportunities.
If you don't see anything in the list below to suit your personal circumstances, just let us know what you'd like and we'll do our best to create a volunteer opportunity for you. Please email our staff with information about what kind of services you would like to volunteer and we'll get back to you with our gratitude and ideas.
Current volunteer needs
Volunteer Coordinator  One hr/wk to to review and co-ordinate volunteer needs, communicate with the community and SLT Board and staff, revise office whiteboard tracking volunteer activities.  If interested, contact Steve at rembrandt9962@gmail.com
Office Maintenance  One hr/week to clean bathroom, sweep front porch and vacuum floors, trash. If interested, contact Sam at 1fantasticday@gmail.com
Event Help  Various tasks related to decoration, set-up, food presentation, clean-up for SLT events through the year.  If interested, contact Steve at rembrandt9962@gmail.com
Newsletter and Printed Materials  Various tasks related to writing, graphic design and publication of educational outreach materials.  If interested, contact Steve at rembrandt9962@gmail.com
Stewardship Various tasks working outdoors to maintain and enhance SLT holdings and property.  If interested, contact Sam at 1fantasticday@gmail.com
Easement Monitoring  Visiting and documenting conservation easements on an annual basis to collect data.  If interested, contact Kathleen at sltconservation@gmail.com