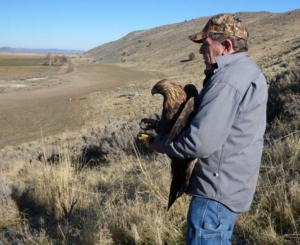 Wildlife biologist Phil Detrich has been deeply involved in raptor research and natural resource policy in northern California for over 30 years. His career has spanned the spectrum from climbing into eagle nests, and capturing hawks, owls, and eagles, to forest conservation planning, negotiation tables, and courtrooms. Phil, who has lived in Mt. Shasta since 1996, is also a past president, executive director, and continuing board member of The River Exchange, the well-known conservation education non-profit based in Dunsmuir, CA. In this talk, he will share images and experiences from his life as a "biocrat."
Join us on Thursday evening, Jan. 11 at the Sisson Museum in Mt. Shasta for a slideshow presentation featuring stories from Phil's vast experience. Tales include eagles, hawks, owls; forests and salmon; Earth Firsters and Native Americans; lawyers, judges, and a US senator. It's about the development of a personal philosophy of good science and good government, in a time of great change in the natural world around us.
Phil Detrich's passion and career grew from his interest in the soaring hawks that provided diversion during long hours on a Kansas farm tractor as a teenager. His 40-year career in northern California has included work as a raptor biologist, federal regulatory biologist, and consultant. His adventures range from Bald Eagle nests high in the trees around Shasta Lake, to government negotiating teams working on protecting ancient Humboldt redwoods, to the multi-party agreements to remove dams from the Klamath River, and back to capturing Golden Eagles for studies of wind energy development and lead poisoning.
The Land Trust slideshow series is held at the Mount Shasta Sisson Museum on the second Thursday monthly from November through April. Door opens at 6:30 PM, shows begin at 7:00 PM and a donation of $8-$10 is requested. All are welcome.