The final show of this SLT slideshow season will feature Rich Rudow, an Outside Magazine "Adventurer of the Year," who shares his incredible achievement–a rarely done thru hike of the full length of the Grand Canyon.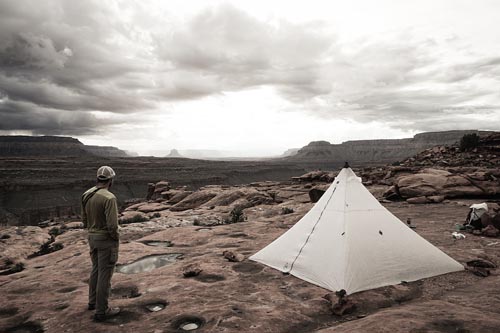 More than four thousand people have summited Mt. Everest. Two hundred and fifty people have walked 7,900 miles to complete the triple crown of hiking (walking the PCT, CDT and AT). Twenty-four astronauts left the Earth's orbit for the moon. But only 12 people have ever walked the length of Grand Canyon in one continuous push.  It is an incredibly difficult journey, and the rewards are incredible.  Rich will bring his story and amazing photos to the Sisson Museum Auditorium in Mt. Shasta at 7:00 pm on Thursday evening, April 13.  There is a suggested donation of $8 as a fundraiser for SLT.
Silent Auction Treasures
In addition to making the trip from Phoenix to present his show, Rich has donated two of his gorgeous photographs from the 700 mile through hike through the Grand Canyon as a bonus benefit to SLT.  The prints, one a sunrise on 18 x12 inch metal and the other pot holes on the Esplanade, a glossy 24 x 18 inch print on stiff foam "gator board" are given for the full benefit of the Siskiyou Land Trust.  They will be sold through a silent auction at the event.  There will be a minimum bid attached to each of these magnificent photographs.  The auction will end 10 minutes after the show ends to allow for last minute bids.  Come early as this show is likely to be sold out!